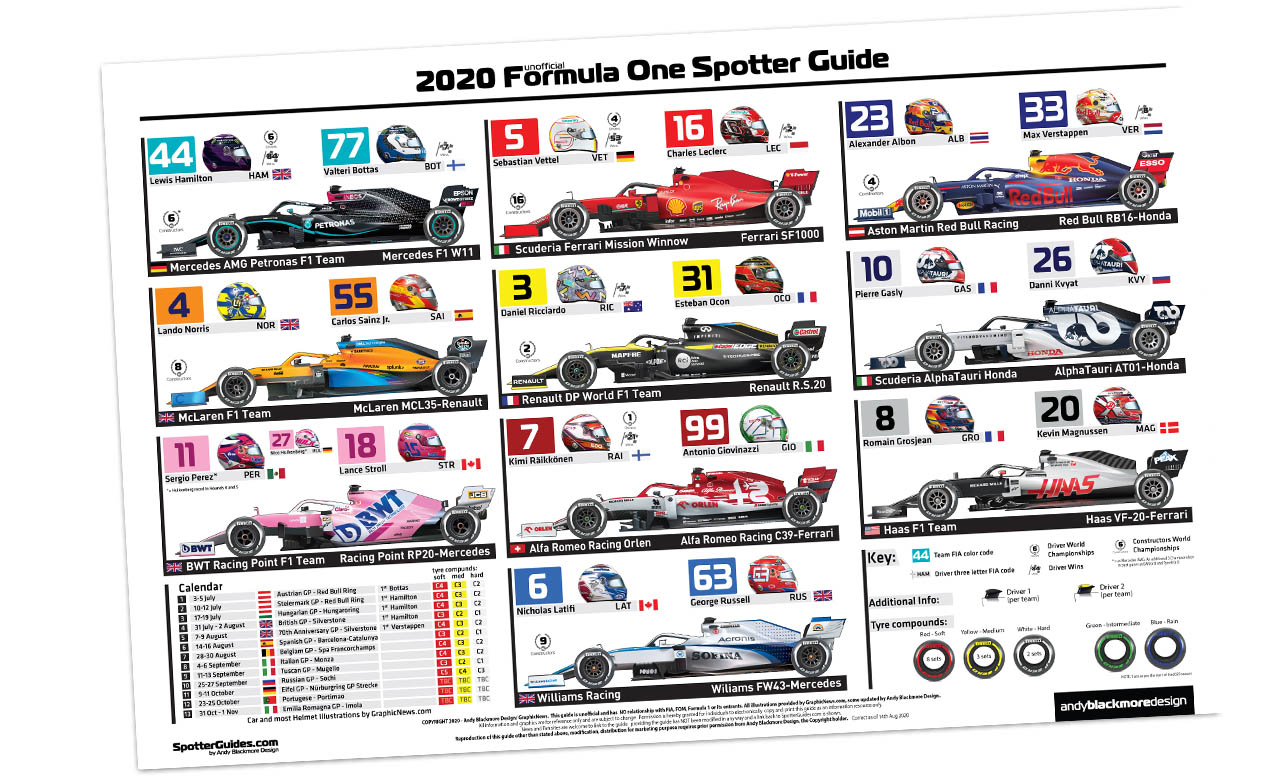 Latest Guide: V5 – Spanish Grand Prix
Latest update: Friday 14th August
The unofficial SpotterGuides.com Formula 1 Guide returns this year.
In the days before the pandemic, I decided to rescurrect the F1 Spotter Guide. I didn't have the hours to create all the illustrations and during Feburary I ended up with a shoulder injury from too much work, so all in, it wasn't the best timing. I decided to partner with GraphicNews.com (Many of the infographics you see in the media are produced by them) and purchased a set of car and helmet illustrations including the relevant rights.
If only I knew what was around the corner less than a week later…
Anyway, the guide has now been released and will be updated during this strange season. Hope you find it useful.
—
Driver helmets are likely to change race by race (looking at you Lando!) basis, so these are only a guide.
In addition, some teams have a roating roster of sponsors (McLaren with BAT brands like VELO and Ferrari with Mission Winrow branding) and will not be updated race by race.
Version 5, was released prior to the Spainish Grand Prix and shows Sergio Perez back at Racing Point following his negative COVID test results.
The guide will return for 2021 depending on its popularity and maybe sponsorship.
COPYRIGHT 2020 – Andy Blackmore Design/ GraphicNews 
This guide is unofficial and has NO relationship with FIA, FOM, Formula 1 or its entrants. All illustrations provided by GraphicNews.com
News and Fan sites are welcome to link to the guide providing the guide has NOT been modified in any way and a link back to this page (not the guide) is used. Reproduction of this guide other than stated above, modification, distribution for marketing purpose requires prior permission from Andy Blackmore Design, the Copyright holder.
Change list:
V1b – Hamilton helmet and Mercedes Livery update. Gasly Austria GP Specific Helmet
V2 – (Hungary) George Russell helmet update . Small branding updates across cars. Full season Gasly helmet.
V3 – (Britian) Hulkenberg subtitute, Norris British GP helmet, Gulf on McLaren. NHS on Williams.
v4 – (70th) Hulkenberg full helmet livery. Revert to generic Norris helmet
Additional GP Dates and Pirelli info have been added as they become available.