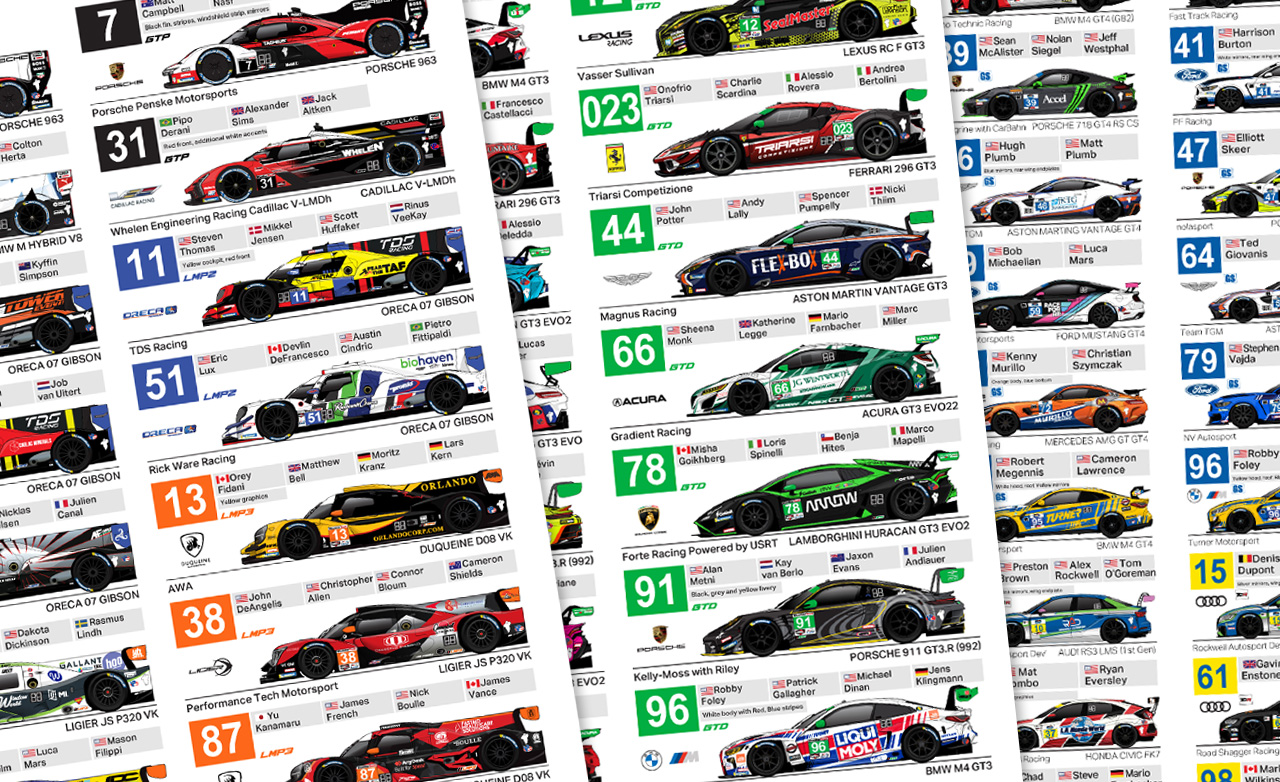 Latest Guide : 2023 Rolex 24 at Daytona
Latest updates: V1.4 Friday 26th January 15:45 ET (Change list below)

Welcome to the new home of the Official 2023 IMSA Spotter Guide series.
This page will be active throughout the 2023 season with guides, updated during race week. Each guide will feature all the entries in the IMSA WeatherTech Sports Car Championship and the IMSA Michelin Pilot SportsCar Challenge.
The release covers the Rolex 24 at Daytona with 61 entries in the WeatherTech series, including the all new IMSA GTP class and the Michelin Pilot Challenge which has 46 entries for its race on Friday.
If you are attending the race, a printed booklet will be available at the circuit, this went to press last week, so the only changes in WeahterTech are #43 has James French running instead of Alex Vogel and #91 Jason French, running instead of Kevin Magnuissen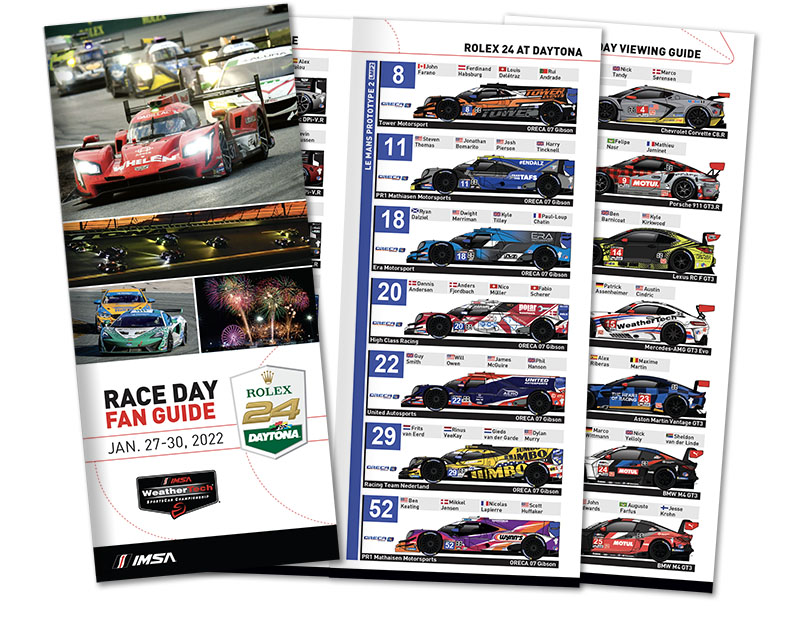 A season long Spotter Guide t-shirt and poster is also available from the IMSA Store at Daytona and will be available online aftter the Rolex at  IMSA Store.
I am extremely fortunate to have a number of liveries racing in IMSA this season Thanks to these teams, sponsors and driver for allowing me to make my hobby a career. These were the cars running at an IMSA event earlier this season.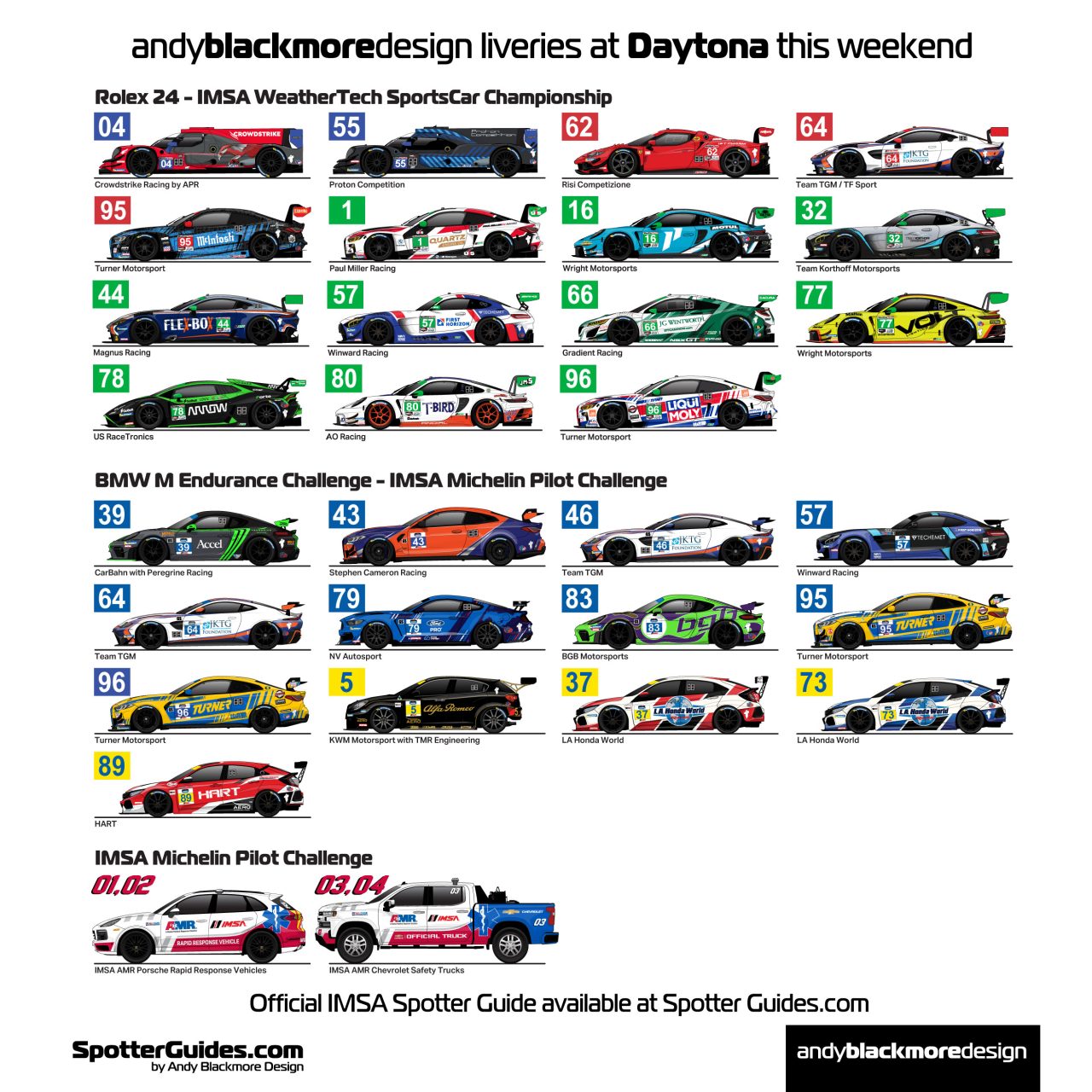 Thanks to IMSA for partnering with the guide. If you have found the guide useful, please feel free to thank IMSA on Twitter. Without their support, there would be no guide. Thanks to all the teams who have helped with creating the guide.
Special thanks to Shea Adam and Paul Marquardt for their awesome proof-reading skills for this initial guide.
Thank you to the fans, corner workers and media who have continued to support the Spotter Guides over the years. Your support is always appreciated.

If you enjoyed the guides, let IMSA know 😉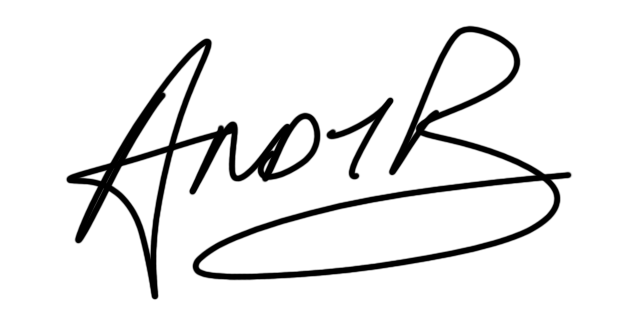 NOTE: Please feel free to share the guide on Social Media, but PLEASE LINK TO THIS PAGE and not the guide (as file names change with updates, particularly with the month change this week) so your friends and fans can download the latest version of the guide! I can also track data easier which in turn helps my quest for sponsorship
Change List:
V1.1 – IWSC: #33 Siegel replaces Soufi. #87 Serravalle replaces French. Acura GTP – Camera and dive-plane update. IMPC: Rockwell livery updated
V1.2 – IWSC #53 MDK Motorsports moved to GTD Pro
V1.3 – IMPC #96 Jens Klingmann added. #10, #15 color adjusted. IWSC #91 driver surnames fixed.
v1.4 – IMPC #29 John Potter added
v1.4 – IWSC #42 Morad added, replacment chassis and livery added -TBC. #42 Megennis added